Owner Trained Assistance Dogs
Owner Trained Assistance Dogs
As a society, we are now well beyond just thinking of dogs to support the physically disabled or the visibly impaired as there are so many ways that a well-trained dog with the right temperament can add value to our lives.
To help overcome this waiting time Helpful Hounds offers to work in partnership with an individual, family, or School to train either an existing pet or to acquire a puppy. Our Trainers will give advice on choosing a puppy in the same way that we might choose our own puppy.
This route can save time but there are extra commitments, potential pitfalls, and benefits.
The commitment is one of time to work with our Trainers and to follow their advice and guidance.  There will also be continuing homework. 
The benefit is the bonding, at an early stage, with the Family Member which will not only provide companionship for many years to come but help to develop confidence, independence and mitigate disabilities of any age.
We work closely with you as an individual, School or as a family to ensure you are fully supported throughout the entire journey.
Where we are dealing with an existing pet, then we will need to conduct an Initial Assessment to check that the temperament is correct, in addition to reviewing the family environment and establishing your ability to make the commitment.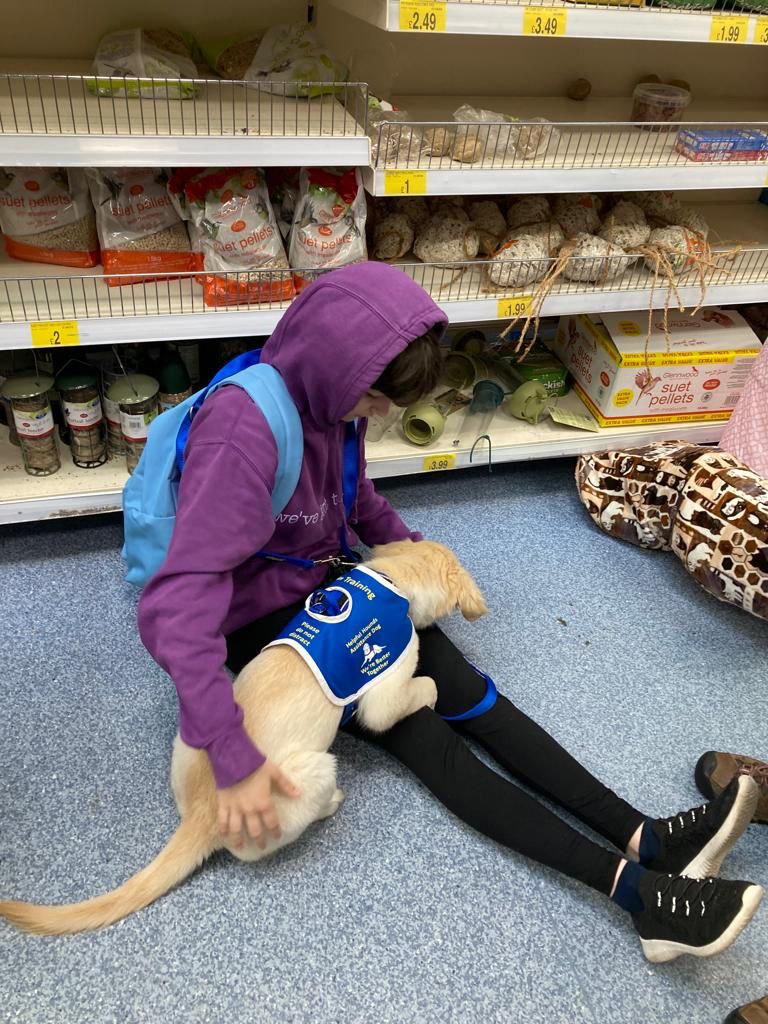 Many people, that would benefit from a dog working with them, will have experienced the difficulty in obtaining a Trained Dog from any of the recognised, large, or small, Charities.
There can be waiting lists of six years or even closed waiting lists which can be most frustrating. 
This is not the fault of any of the Charities, it simply reflects the growing number of ways that a properly bred and trained dog can add value to and change lives. During 2020, this situation became even harder because of the Pandemic and the need for shielding and lockdowns.
OWNER TRAINED ELIGIBILITY
We at Helpful Hounds have noted that parents and carers of young people will spend hundreds and sometimes thousands of pounds on various therapies in order to grant independence and improve the quality of the young person's life, so that they can achieve their full potential.
We view the contribution of an Owner Trained Helpful Hound in the same way that parents and carers view the various therapies such as Speech and Language Therapy, Arts Therapy, Music Therapy and Hydrotherapy.
The end result is a greater quality of life for the young person and their family and potentially added opportunities for social and educational engagement as well as future work opportunities.
Check you are eligible
To process your application for a Helpful Hound, please see the following criteria:
You should:
Live within Dorset, Hampshire, Surrey or Wiltshire.
Have a medical diagnosis of your/your child's disability or be in the process of getting the medical diagnosis.
Have a dog under the age of seven or be wanting to acquire a puppy that you can work with us to train.
The person to be supported should be between the ages of 8 and 25 years (older subject to assessment).
Have a secure back garden.
The dog will receive at least two hours per day when he/she is 'off duty' and allowed to just be a dog
Be prepared to commit to working with, and following the guidance of, our Trainers, consistently, to achieve the best outcome.
How to apply
If you feel you meet the criteria, then please fill out the form below.
We look forward to hearing from you soon! Please be aware that, like most Charities, the waiting list might be long.