Hello Everyone,
Last year there was a Fund Raising Appeal called Run for Heroes.  It raised over £7m for NHS Charities during Covid.  This year, it has been organised again but for all charities to participate in and it is in partnership with Just Giving. What's more, Just Giving are not charging fees and are recovering gift aid for us.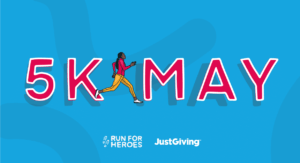 The working is very simple. Run/walk/cycle 5: Donate 5: Nominate 5:
You can travel 5K for your chosen charity: Run, Walk, hop, cycle (or whatever you manually propelled mode of transport is) or even walk your (or someone else's) dog
You donate £5 on the link below which is Helpful Hounds own 5K May page in Just Giving
You also tell five (or more) of your friends, colleagues or neighbour about the 5K May and ask them to do the same, using our link
You also ask them to tell five of their friends to encourage them to join in: And so on.
This launches tomorrow and runs throughout May.  You will see a post on our Facebook page as well.
It is a great opportunity to cover some of our expenses and give us the opportunity to help more families, adults and Schools.  If we start with five people and move this via five more layers, successfully, we could raise over £90,000 by a lot of people doing a little i.e. £5 each and moving themselves by 5K.  Even four layers would produce £19,750. As we start coming out of Covid and are resetting the Training again, this would take a lot of financial pressure off of Helpful Hounds and allow us to continue to increase the support we provide. So, please do everything you can to help. The Challenge can be fitted with other things you are doing and the donation for each person is £5 (They can donate more if they want on the link)
The Helpful Hounds Link to Share is:
https://runforheroes.justgiving.com/get-involved?charityId=2774553
I look forward to hearing of success and if you have any questions or need any help, please call me. Also, please go to our Facebook Page and Share the post with your Friends.